A Glittering Career
EDP Norfolk Magazine
A glittering career
Francois Bouttier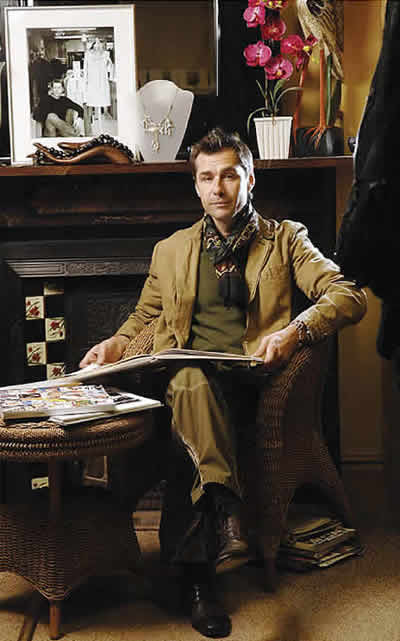 Norfolks followers of fashion will be familiar with Francois Bouttier and his stylish studio in Holt.
Now, as Annie Hirst discovers, the talented designer is making a name for his beautiful jewellery, too. Pictures by Steve Adams.
When Francois Bouttier went to buy silk in Bangkok for his fashion line he was completely entranced by what he saw. So much so, that his discovery led him to add another dimension to his popular fashion emporium in the stylish North Norfolk market town of Holt.
We had never done jewellery before that trip to Asia,
explains Francois when we meet at his shop in Shirehall Plain. But I was in this studio choosing my printed silk and there was this little cabinet full of the most enticing pieces of jewellery.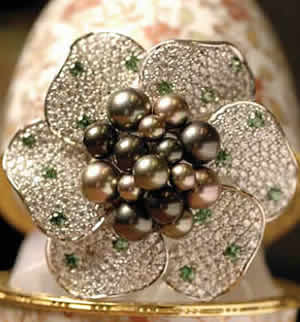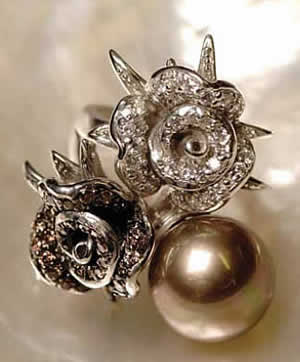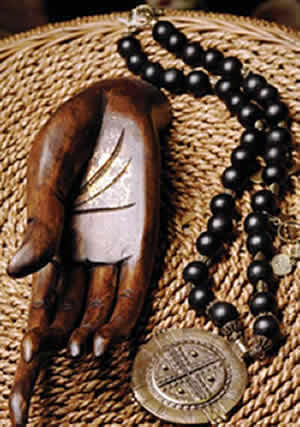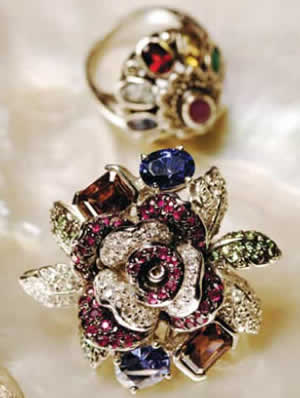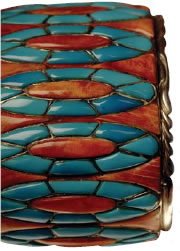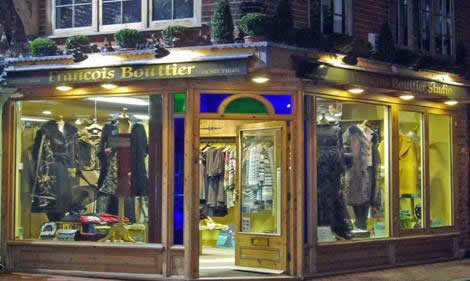 My eyes could not stop looking at them, the colours, the shapes, the stones they were so beautiful.
Soon the designer realised that I was looking at them and not the silk and so I said:
Can you tell me who makes these? She admitted that she did, but she couldn not sell them as they were too expensive for people in Asia (they were made from semi precious stones) and so she made up pieces for herself.
I asked if she would sell them to me and she was over the moon so I bought all those pieces. I put one in the window and in less than half an hour a gentleman came in and bought it, and then the following morning two customers came in and bought the rest of the collection; one took six pieces and the other four.
I was stunned I mean, the pieces were around £150 each and they went so quickly. So that's how the fashion studio new jewellery line only for you came into being.
That original find was almost two years ago but since then Francois has been selecting other designs from his travels around the globe, such as additional pieces from Asia and ones from North Africa, to be able to launch his new jewellery business which came about late last year.
We have exquisite pieces arrangements of cultured pearls, lapis lazuli, topaz, quartz – these are timeless pieces but with a twist of modern, says Francois. Most of the designs are mine but we can customise our pieces to suit whatever people want this takes a good 10 weeks.
We have these fabulous Fabergé eggs, continues Francois, as he passes one to me. Can you imagine a lovely ring presented in one of these? What a superb gift. I have to agree, particularly when I handle some of the 'only for you' rings – pieces of jade and ruby set in silver and white gold which are eye catching and unusual, one of which is shaped like a flower. We move on to the necklaces – most are in silver, many have drop designs of cultured pearls and semi precious stones, others have silver leaves and fruits, while one made of wooden beads is a complete surprise.
I expect a large pendant to be heavy when Francois passes it to me but it isn't at all.
You see, you'd think it would be heavy but it is so light – you can wear it with anything, and all the time as it doesn't have the weight that would wear you down," says Francois.
It is hand crafted in Africa – it has the feel of a piece from the '50s or '60s but it is put together in a modern way – it is more adaptable.
Already we have a huge following for the jewellery it sells almost as soon as it comes in but we're having a large shipment in for February, for Valentine's Day." The jewellery is called 'only for you' after the studio's own fashion label of the same name.
For, as well as selling collections from the top designers, such as MaxMara, Christian Lacroix, Tara Jarmon, Marella and Moschino, Francois designs his own range of clothing. He shows me a wonderfully cut gabardine coat, a navy Burberry fabric with a rich pineapple design lining.
This fabric is from Italy, and inside it is from Denver," Francois tells me. We buy the fabric and have the patterns cut to our design."
He continues:
Look at this hand made lace on this dress and how well the necklace looks with it."
Once again, I have to agree that the jewellery does complement the dresses and coats made for the 'only for you' label.
What's more, it seems that all the countries of the world are represented in the Francois Bouttier Studio, a truly cosmopolitan corner of Norfolk.
It starts with Francois himself who hails from France.
My family is from the Loire region, near Orleans, but as I worked for Yves Saint Laurent and [Emanuel] Ungaro, I spent many years in Paris and then moved to London. I visited Norfolk regularly before moving here six years ago. I love life here Norfolk is a little gem, we have so many blessings, it's safe and clean and we have the beautiful sea.
I found this building – it was empty and I knew it was a wonderful opportunity – and then, would you believe, we did the deal over a pint of beer in a pub in London!"
Francois continues: I came across the most wonderful 'Miss Marple' cottage and I had to have it. Now, we've moved and we live in Melton Park and it's fantastic – you are never far from anywhere – two hours and you're in London; from Norwich you can get to Paris and on to the rest of the world."
It seems that Holt is a good place to be then for someone who travels the globe in search of the best for his customers – first there was the fashion and now there's the jewellery.
From that first viewing, I liked it so much and I'm so thrilled that others feel the same," concludes Francois
Francois Bouttier's 'only for you' jewellery is available exclusively at the
Francois Bouttier Studio,
5 Shirehall Plain,
Holt.
Tel 01263711148.
Open Monday to Saturday, from 10am to5.30pm,
Sunday opening (May to December) from noon to 4pm.
Mail order is available via the website; for more details check out:
www.francoisbouttier.co.uk